Baby G-Wagen based on A-Class Platform in 2015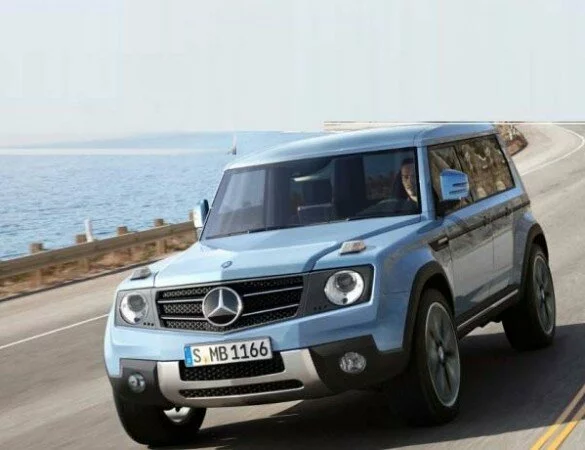 Mercedes is in the process to bring about the lucrative G-Wagen to another level, this time in a more conventional approach. A 'mini-G' is in the line-up to get sanctioned among several other futuristic Merc's. A step down the ladder meant A and B class an instant hit package with affordable yet sensible proportions.
The new GLG SUV looks to put the manners in-place that matters with styling cues taken from the rather outdated but attractive Gelandewagen (G-Wagen). The uprightly sculpted body does make your presence felt anywhere and the layout provides ample space inside.
It shares the same MFA platform as the A-class family and the road-focused GLA crossover set to arrive in 2014. It will get the same range of engines as the current A-Class and a spicy AMG range-topping version to follow.
Likely to be a rival for the forthcoming Land Rover Defender, the standard version could come as a two-wheel drive – same as the Defender.  Expect the 4Matic all-wheel drive with all sorts of electronic aids at the top-level.
Underneath, the engines present at different levels of tune. The 1.6-litre petrol version in the form of 122bhp and of the 2.0-litre engine 156bhp or 211bhp makes the running. The diesel variants range from 136bhp to 204bhp with 2.1-litre motors and probably the 1.8-litre at the lowest range of 109bhp.
The GLG45 AMG powers out the maximum of 350bhp with beefed up suspension and larger brakes to satisfy your off-road senses. Mercedes plans to contribute ten new models by 2020 and the baby-G is amongst those that will probably see the daylight.
The launch time is no sooner than 2015 for the defender rival. When the Indian-owned, UK-based, Land Rover, first showed the DC100 and DC100 Sport concepts at the 2011 Frankfurt Motor Show it said an all-new Defender would need to hit 100,000 annual sales, with the US market to play a significant role in reaching that target.
The current Defender will fail to comply with the safety standards in European market by 2015. In 2015, the production version of the Defender Concept 100 will be launched in India and even it could be made here to lower down the cost of manufacturing. If that's the case, the GLG has a main competitor already exist in the pipeline.
Tweet
About The Author
Related posts