Hyosung to launch GT250 R in Delhi on the 11th September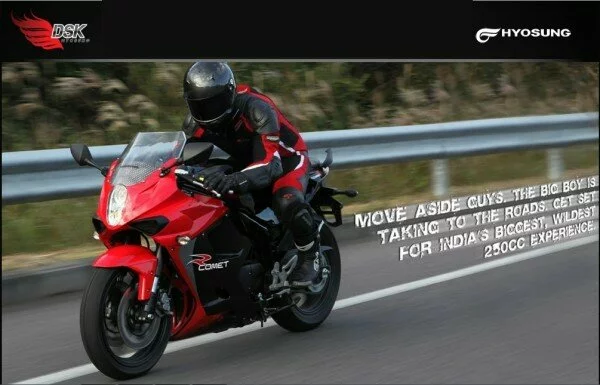 Hyosung will launch its fourth product the GT250 R in the capital on the 11th of September. The bike was launched in Mumbai on the 13th of June in Mumbai at a starting price Rs. 2.75 lakhs.
Hyosung has launched the all new GT250R in Goa. The bike is priced at Rs. 3.18 lakh on-road Goa. DSK Motowheels is the new partner for Hyosung bikes in India.
The GT 250R is powered by an air/oil-cooled 249cc, 75-degree, V-twin engine. The power plant produces a peak power of 27.88PS and maximum torque of 22.07Nm and is mated to a 5 speed manual gear box. The bike can do a top speed of 140 km/h. (It seems low as compared to competitors).
The GT250R is available in three colours – white-red, silver-red and red-black and will be in showrooms in next five days.
The GT 250 will take on the likes of Kawasaki Ninja 250 and Honda CRR 250.
Read our exclusive interview with Mr. Shirish Kulkarni, MD of DSK Motowheels during the launch of the Hyosung GT250 R in Goa.
Also Read: Hyosung GT250 officially launched in Goa, deliveries begin
Tweet
About The Author
Related posts