Mahindra launches new Duro 125DX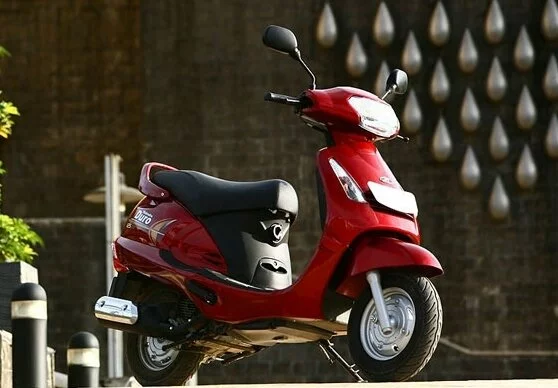 Mahindra has launched the new Duro 125 DX in India. The 2012 vaerison of the Duro comes packed with new features and upgrades. Mahindra is concentrating on the scooter market and is looking for a bigger pie of the two-wheeler industry.
The Duro DX now gets a few tweaks and new features.
Powerful 125cc Engine: The new Duro is powered by a fuel efficient digital ignition (DI) 125cc engine which produces 8 bhp of power and 9 Nm of torque. The specs are comparable to decent motorcycles and is one of the powerful scooters in its segment.
Advanced Telescopic Suspension: Duro DX comes with Advanced hydraulic front telescopic suspensions unlike the traditional unit link type of the existing Duro. Again a feature found on the motorcycles. These shocks handle the potholes comfortable and give the rider a smoother ride.
Better Mileage: According to Mahindra's tests the IDC (Indian Driving Cycle) value of Duro DX is 53 kmpl which is an impressive figure for a 125cc automatic scooter.
Longer wheelbase: Duro has a longer wheelbase of 1270 mm which helps to increase the stability of the scooter.
High ground clearance: The new Duro DX has a higher ground clearance of 155mm unlike the older version which had 140mm and would rub off the big speed breakers very easily.
Broad halogen headlamp: The DX version of Duro now comes with broader headlamp with halogen bulb for a more effective and wider throw. Its helps to accentuate the look of the scooter.
Better Braking System: Mahindra has also worked on the braking which helps improve the braking performance.
Large Storage Space: Often called as 'boot' in cars, Duro Dx has large storage space under the seat.
Stylish Aesthetics: The handlebar is higher than other scooters which doesn't get blocked with rider's knees especially the taller ones.
Superior Safety: Duro DX has now 4 point mounting of its tyres. It also comes with better and wider rear view mirror. Brake lever lock to prevent the scooter from tipping over is also provided. Duro DX also has wider and more comfortable seats.
Image soure:Zigwheels
About The Author
Related posts