Royal Enfield Biker clubs in India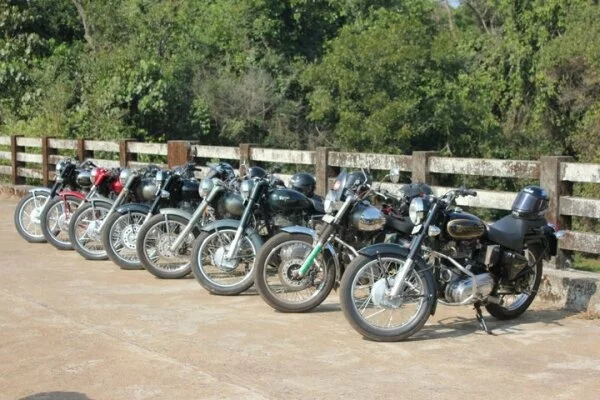 Hi friends, well I don't think we need to introduce the classic Royal Enfield brand to you all.. When ever the sound dboob dhoob cracks in the ears we all know which machine it comes from.
The Enfields commonly as Bullets have many thing in common. One of the most important thing is the Biker brotherhood one develops amongst the Bullet Riders.
We have tried our best to compile a list of Bullet clubs in India.
Long live the Bullets and bikerhood….Coz everyone makes way for the Bullet..
The order is alphabetical.. so please don't mistake it with the order of existence. Please do mail us your Bullet club name in case it is not listed here
Royal Enfield Bullet CLUB ( R.E.B.C.)

23ONE – HYDERABAD
60 KPH
99 CANNONS MC – HUBLI
AIROBORNE RIDERS – JAIPUR
AIZWAL THUNDERS – MIZORAM
ARUNACHAL BULLET CLUB
ASHVAMEDH – MUMBAI
BHUTAN DRAGONS – BHUTAN
BULL RODEO – NOIDA
BULLS OF MYSORE
CAFÉ BULLET GOA
CENTRAL THUMPERS – RAIPUR
DELOITTE RIDERS COMMUNITY
EASTERN BULLS
FAT BASTARDS – ALL INDIA
FIRELORDS – PUNE
GUJARAT BULLS
HIGHWAY NAWABS – HYDERABAD
INDDIETHUMPERS – BOMBAY
INDIA BULL RIDERS – ALL INDIA
IRON BULLS BULLET CLUB – MUMBAI.
IRON HAWKS – JAMMU
KOVAI THUMPERS – COIMBATORE
MADRAS BULLS – CHENNAI
NORTH KARNATAKA ENFIELD CLUB – HUBLI
RANCHI BULLETEERS – RANCHI
RE RAM – MEGHALAYA
RHINO MC – ASSAM
ROAD MELTERS – JAMSHEDPUR
ROAD STALLION BULLET CLUB – MUMBAI
ROAD SURVIVORS – CHANDIGARH
ROADSHAKERS – PUNE
ROYAL BEASTS – DELHI
ROYAL INDIANS ENFIELD OWNERS CLUB ( RIEOC)
ROYAL KALINGA – ORISSA
ROYAL KNIGHTS – BANGALORE
ROYAL KNIGHTS MOTORCYCLE CLUB – BANGALORE
ROYAL RHINOS – ASSAM
ROYAL RIDERS – KOLKATA
ROYAL RYDERZ – DELHI
RTMC – BANGALORE
TORQUE HUB – MUMBAI
UNITED RIDERS – UDUPI
V40 – CHENNAI
VIZEROYS – VIZAG
WANDERERS – HYDERABAD
WANDERLUST MC – NAGPUR
WOLFE PACK INDIA                                    GHOST RIDERS – KARAD
Tweet
About The Author
Related posts